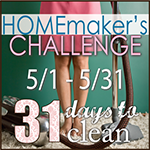 So, do you have the book, 31 Days to Clean????
(I really need a Kindle - hint, hint to those who might need that info - I can't stand to sit at my computer and read books. I had to print out the whole ebook so that I could hold it in my hands. Now, I am happy!)
Each day is such a short, easy read. On Fridays, blog about which day was the most challenging and why. Then, link up!
Are you not signed up yet?
Go here!!!